Maestro Alex Gregory came from a background which included a PhD in classical composition/orchestration, a Rock N Roll heart, and the added bonus of having hung around with Allen Holdsworth during his kid-hood years.

Because of his academic qualifications he always had a clear understanding of the specs and functions of almost any musical instrument.

Because of his Rock N Roll heart he always loved loud and distorted sounds.

Because of his schooling an growing up around Holdsworth he always had a decent enough chops to try to adapt classical violin melodies (his favourite) to Rock.

Consequently, after experimenting in the early 1980's with various designs, by 1985 he had come to the conclusion that the only way he would be able to play the music he wanted to play was by having a special 7 String Electric Guitar. He designed a fully dedicated instrument, oddly enough with the score of Paganini's 24 Caprices for Solo Violin as his main reference instead of luthiery books, and his manager took the plans to Gibson. In 1987 Gibson offered a Signature deal for the Maestro's new 7 String Electric Guitar, but he opted for Fender Musical Instruments (the Stratocaster being his favourite 6 string electric guitar!) who also made a better offer.

The Maestro was signed to Fender in September 1987 for the purpose of building and marketing his own signature model: the MAESTRO ALEX GREGORY 7 STRING STRATOCASTER. The idea was to have a "state of the art" Rock N Roll 7 String electric guitar with a top A and 24 frets to be able to play standard guitar chords on the bottom and flash violin melodies (they have more range than the guitar) from the bottom to the top with 4 full octaves available in the popular key of A as well as a few others.

The choice of the highest note being a 24th fret high A came from the legendary intro of Paganini's Caprice n.5 in Am, as that is the highest note there, as well as in the whole OPUS (obviously one octave higher still).

Both Gibson and Fender Musical Instruments , being the true giants and real innovators in guitar making history were very familiar with any previous 7 string instruments, and felt that this new 7 String Electric Guitar By Gregory was so radically different that it should also have its own name. Credit must be given to Dan Smith (at the time Vice President/ Marketing at Fender) for his vision as they all toyed with the idea of calling it the new 7 String GUITOLIN.
1988 Fender Price List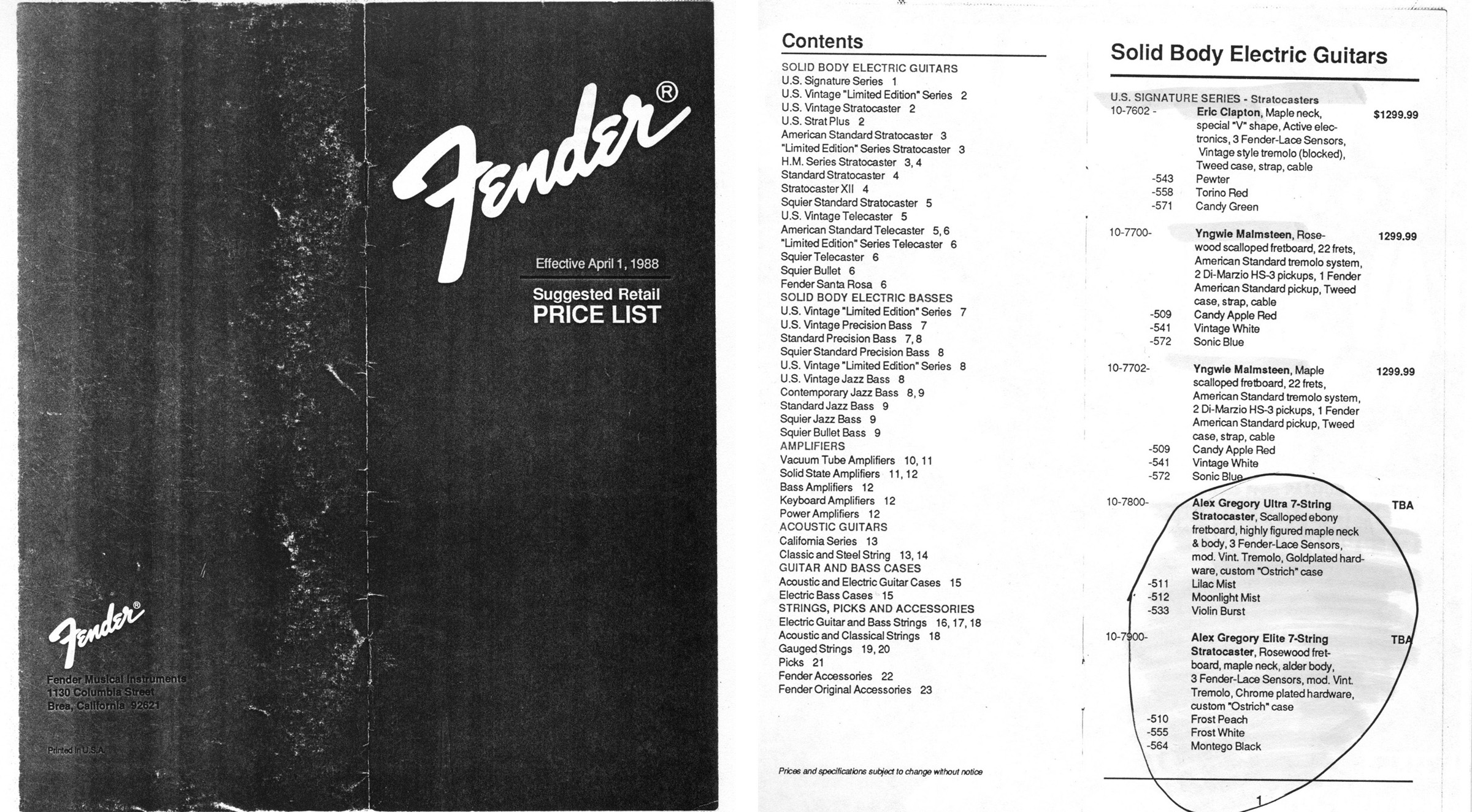 Two prototypes with the same speds were made for the January 1988 NAMM Show as well as Fender's 40th anniversary massive celebrations.

The first guitar had the following specs (see early Fender price list):
25 inch scale
reversed headstock
one piece maple neck with scalloped ebony fingerboard
24 frets
one piece quilted maple body
3 exposure Seymour Duncan 8 poles single coil pick-ups (old lap steel re-wired) adjustable from back plate
7 string tremolo - American standard meets vintage Strat
gold hardware
burgundy see-through finish (was meant to shell pink, but the wood reacted strangely and went dark)
matching colour ostrich covered case by G & G Quality Cases

This guitar is apparently owned by a Japanese collector who also works for the Roland Corporation as a demonstrator. It has not resurfaced since 1988.

The second one was exactly the same except for:
Brazilian Rosewood fingerboard with no scalloping
one piece swamp ash body
nickel hardware
peach pearl finish
peach ostrich case